Logroño was an old settlement, first of the Romans, under the name of Vareia, a commercial port, and then of the Celts. From the 10th century, possession of Logroño was disputed between the kings of Navarre and those of Castile; the region was finally annexed to Castile. Alfonso VI of Castile granted Logroño in 1095 a charter of rights that served as a model for other Spanish cities. In 1609 and 1610 Logroño was the main seat of the Basque witch trials, part of the Spanish Inquisition.
Puente de Piedra bridge
It is one of the four bridges on the Ebro River in Logroño. It is also called San Juan de Ortega Bridge and the current construction dates from 1884, after the old bridge collapsed in 1871. It is one of the symbols of the city, it appears on its coat of arms and it is the entrance to the city on the Way of Saint James.
Cathedral de Santa María de la Redonda
The Cathedral of Logrono was built over a Romanesque primitive temple from the XII Century. Its name comes from its circular floor. In 1453, it became a collegiate church when it was joined to the San Martín de Albelda Church.
It has three naves and three polygonal apses. In its main façade, there is a great stone altarpiece that is closed by railings that come from the Santo Cristo chapel. This facade appeared framed by slender Corinthian columns. The temple is divided into three naves and seven bays, and it is covered by a semi- dome in which you can see relieves of the four evangelists, four angels and the Everlasting Father. It suffered several reforms during the first third of the XVI Century and the XVIII Century.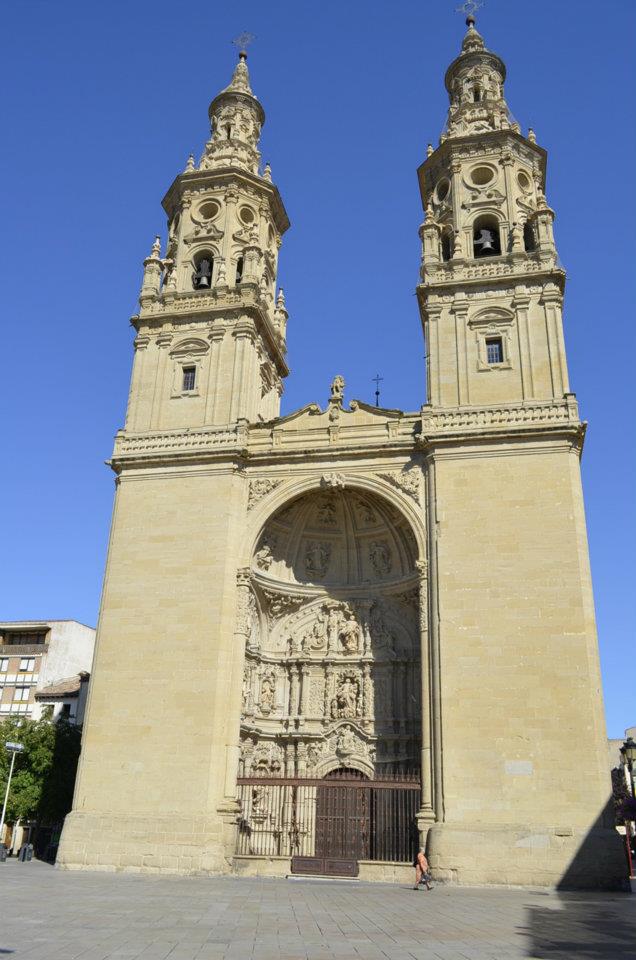 Inside, several elements are highlighted. The set of chairs of the choir has been carved by Arnao de Bruselas. The main altarpiece, from the XVII Century, represents the image of the Tree of Jesse where the Virgin appears. The sculpture and painting collection is brilliant, with Gaspar Becerra, Juan de Bazcardo, Navarrete el Mudo and Gil de Siloé´ s works. The Baroque towers of this monument, the "Twins", were built in the XVIII Century by Martín Berritúa. Moreover, we should not forget the "Calvario" (the Calvary) by Miguel Ángel, the master of the Sistine Chapel painted this board for his friend, Vitoria Colonna.