The Camino Frances is a 790 km/490 mi pilgrimage route from the town of St.Jean Pied de Port in France to Santiago de Compostela in Spain.
During its complete journey through the Iberian Peninsula, The Camino Frances crosses nine provinces of Spain: Navarre, Huesca, Zaragoza, La Rioja, Burgos, Palencia, León, Lugo and A Coruña.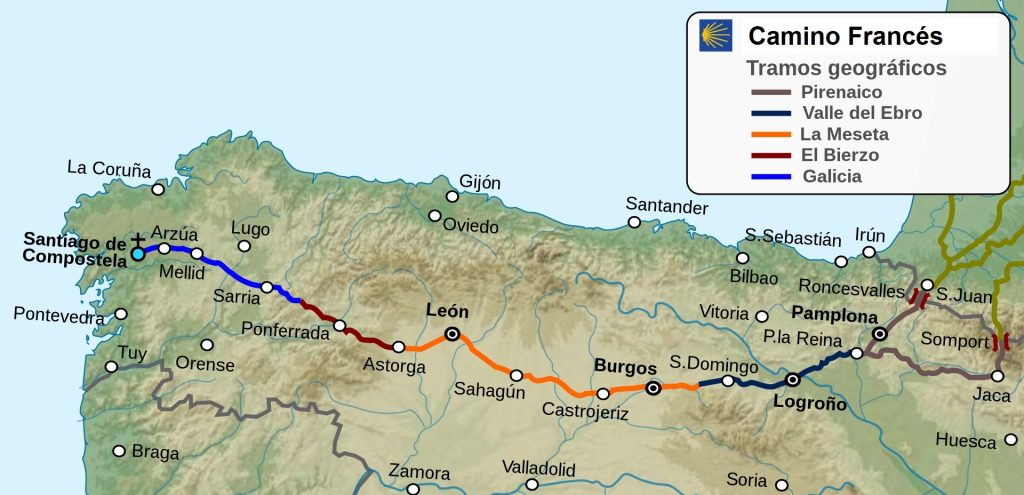 Without any doubt, if you had to highlight the main reason why it is worth choosing The Camino Frances is that of its popularity. Indeed, from all possible routes, The Camino Frances is the one that brings together more people.
It must also be said that, as a consequence of the fact that it is the busiest, The Camino de Santiago Frances is the best prepared in terms of infrastructure, superior to the rest of the routes.
It is also true that it is the one that has more hostels along its route and that, in general, more facilities are available. It is also necessary to say that it is the oldest one since its origin
Camino Frances overview:
Total distance – 790 km/490 mi
Number of days required – 30-35 days (normal pace), 36-40 days (slow), 26-29 days (fast)
Walking on hard surfaces (asphalt, cobblestones, etc.) – 290 km/180 mi
Walking on the road – 70 km/43,4 mi mostly very quiet roads with almost no cars
Average cost – 35-40 Euro per person per day
Accommodation – public and private albergues, pensions, hostels, hotels
Route marking – yellow shells and arrows